The anniversary of the pandemic this month passed without much acknowledgement. HR professionals, who have been at the forefront of the response, are exhausted with many waiting impatiently for the vaccination program to take effect and for the return to the old normal.
We hope the vaccines are coming but we know the old normal is history. The impact of the biggest crisis we have dealt with in generations, will be deep, broad and long-lasting.
As unrealistic as it seems for the busy HR leader, this creates an urgency for them to carefully consider their current capabilities, identify where they have been exposed and introduce a new role with no name – more to follow!
Accelerating the journey to HR 3.0
A report from IBM and Josh Bersin Academy identified that 7 out of 10 HR executives recognise their function is ready for reinvention and identify a big gap between their current and required capabilities in the HR 3.0 digital world.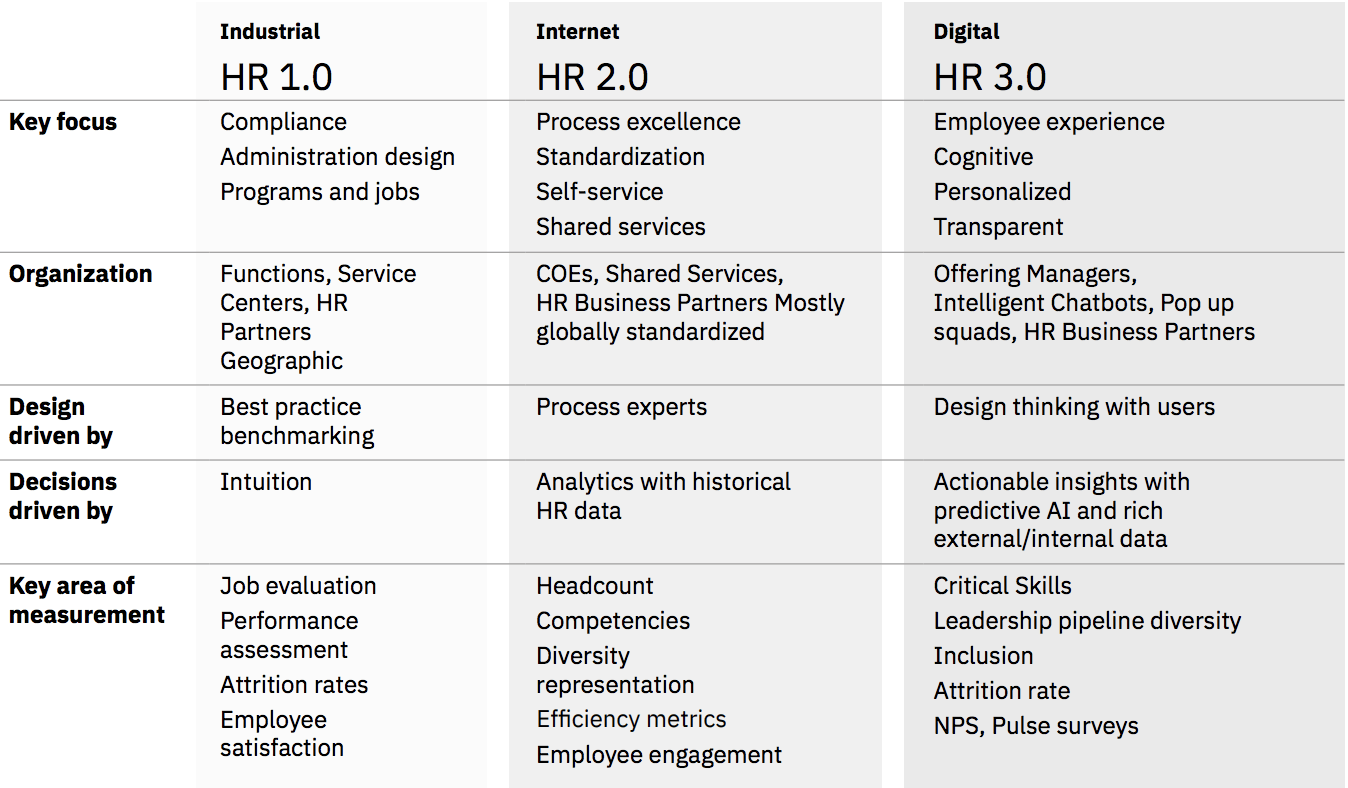 Source: "Accelerating the journey to HR 3.0" by IBM and Josh Bersin Academy
The imperatives for the future of HR include a somewhat daunting list:
Deeply personalized experience-centric design

Skills at the core of the enterprise

Data-driven decision making powered by AI

Agile practices

Transparency to preserve trust
It was exhausting to read through the list of "easy say-hard do" tasks (and yes I acknowledge I've not been hands-on leading an enterprise through a pandemic for the last year!), but fear not as fortunately the report identifies the 10 action areas that guarantee (they don't actually say "they guarantee"!) that you will make it to the promised land.
For this missive, it was action number 9 that caught my attention.
Reorient and reskill your HR business partners – HR must act as strategic advisors, trusted coaches and data-driven problem solvers
The twenty-year-old HR Business Partner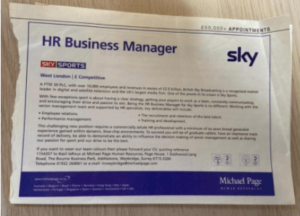 In 2004 I joined BSkyB as part of their new HR Business Manager team apparently as a "commercially astute HR professional with broad generalist experience".
It was a new model for a fast-growing and dynamic business and presented many exciting challenges. It took time to build credibility, but it strikes me that back then the expectations of our role weren't very different to the HR 3.0 aspiration. We were strategic advisors, trusted coaches and data-driven problem solvers – albeit the data came from Excel spreadsheets not fancy AI driven data models.
It's comforting to ruminate on the past (I can't believe I still have the job advert), but apparently, we still have a long way to go. The IBM report tell us that only 19% of HR exhibits business acumen. While I hope the other 81% aren't in the Business Partnering team, I suspect we have not made the progress we should have over the last 20 years.
Let's accelerate into the future
In other work, Josh Bersin refers to the full stack HR professional where HRBPs need to develop new capabilities in consulting, agile practices, organizational knowledge and industry experience to be business change agents.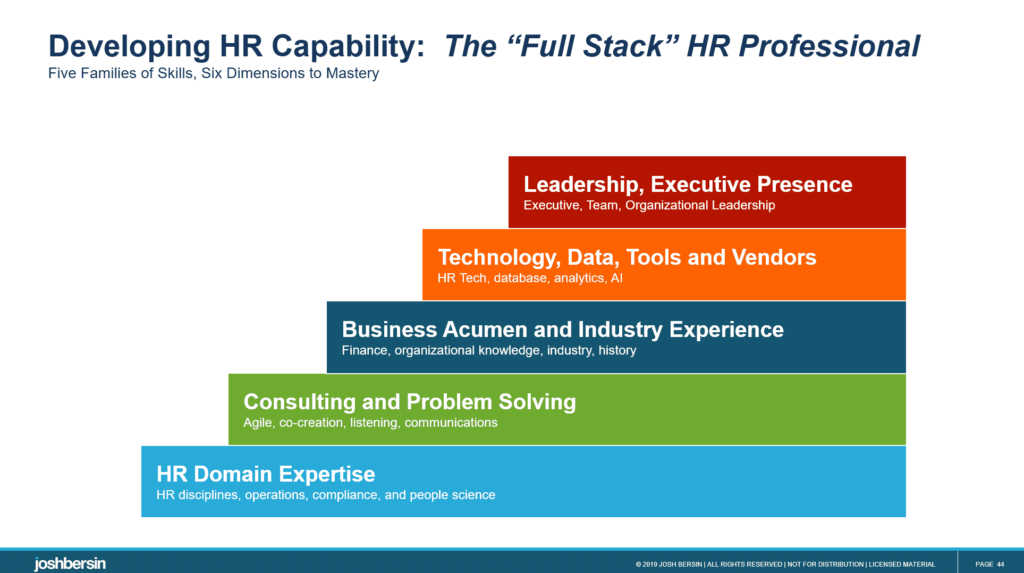 Source: Josh Bersin
My respect for Josh and his work is unwavering, but I don't think this framework goes far enough. Our aspiration for a HR 3.0 world needs a role that goes beyond the confines of a title that has been kicking around for 20 years.
Let's not forget that back in 2000 we were just picking ourselves up from the fact that Y2K didn't result in an apocalypse. The iPhone and social media hadn't been invented and there wasn't a chatbot in sight.
Fast forward to 2020 and we're dealing with a mutating global pandemic and an acknowledgement that our world has changed forever.
The new HR Business Partner – the role with no name
I'm not a fan of labels and job titles so I'll leave someone more creative than me to come up with something catchy if that's what's required. I do believe in the substance of a new role in HR and propose three overlapping sets of qualities.
Accidental range –
Stolen from his book of the same name, David Epstein makes the compelling argument that the most effective people dabble in a variety of fields and are prepared to fail and learn from their mistakes before trying something new. In the modern world where we are faced with massive disruption, this seems a pretty important quality.
My own career trajectory has not offered the range that Mr Epstein would advocate having spent most of my time in HR Business Partnering type roles. I was somewhat conscious of this and was therefore deliberate in working across multiple sectors and proactive in adopting a curious mindset with a high willingness to learn from others.
To achieve accidental range, HR leaders should:
Provide their teams with varied experiences and maintain an agile operating model focused on reducing silos and delivering the most valuable work

Recruit from a dispersed talent pool including those outside of HR

Put effort and resources into the development of your people to feed curiosity
Creative leadership –
My go to leadership model, The Leadership Circle, provides a powerful framework for a set of competencies that support a leader's overall effectiveness. HR leaders need to be thoughtful how they lead against these qualities that include how results are achieved, how they bring out the best in others, lead with vision, enhance their own development, act with integrity and improve organizational systems.
To achieve creative leadership, HR leaders should:
Define a clear purpose for their team and individual's roles

Build self-awareness to accelerate self-development anchored in a coaching approach

Create a safe, yet challenging environment, where people can be tested to do their best work with the confidence that their peers and leaders are ready to catch them if they fail.
Human-centric values –
Our belief systems, often based on childhood experiences and more fundamentally religious symbols and philosophical practices, impact our views of the world and how we interact with others. Articulated eloquently by Buffer, we want to avoid "culture fit" but "values fit" when it comes to the modern HR business partner is important.
There are many important values, but the top three for me include:
Humanity – advocating for a better world
Fairness – supporting the under dog
Kindness – helping others
To achieve these unwavering values, HR leaders should:
Be clear on the values that are important to your HR team

Pay disproportionate attention to the "how" not just the "what"

Walk the talk – role model the right values
The new HR role with no name
Equipped with these three sets of qualities, this new HR role with no name can make a massive impact on the organization. If you want to make a bigger impact in your organization, get in touch and we can make the first step together.