It's difficult to watch something you really care about get ignored, put upon or bullied.
It's my nature to intervene – not in an aggressive, overbearing way, but in my usual calm, reflective way – to understand what's going on and to try and make things better. Better for everyone.
I've watched HR go through an identity crisis for the last 28 years that I have worked within it.
You have to wonder how much of that is reflected in my own psyche, but I'll save that for another article or the psychiatrists chair. It's the classic victim villain story where HR is interchangeably the victim to the business leaders who don't hold them in high regard, or the villain to the business leaders it tries to overly control.
A recent article by Robin Schooling is critical of the way HR comes together to demonstrate self-love. I agree with the sentiment of the article, but I can also recognise why this happens. Let's face it HR does get ignored, put upon and bullied – we've all experienced it in one form or another – and we all need a little bit of love.
But too much navel gazing and a victim mindset is not going to get HR out of the rut. It's going to take us further down the road to irrelevance.
We need a growth mindset where there is ambition, creativity and an openness to learn. Now is the time to Reimagine HR.
The trifecta that is a health, economic and social crisis, provides the perfect goat rodeo to put that ambition, creativity and openness to learn to good use. Now is the time to shake off our victimhood mentality and make the impact in the world that we have been promising ourselves (and others) for all these years. Let's be careful not to claim victory too soon. In recent months, I have witnessed many, many HR leaders doing great work. They have been responsive, conscientious and resilient. This triggered many a 'HR hero' meme and a little too much self-congratulation for my taste. I saw the best HR leaders look at their colleagues and squirm before stepping back to cancel their professional body memberships.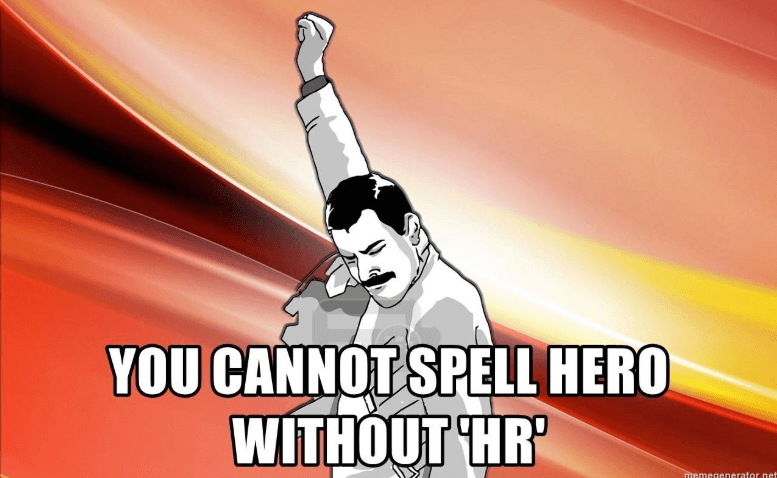 Many of us couldn't resist. We were desperate for the recognition, but in the end just made ourselves look a bit silly. Weren't we just doing our job? Supporting the real heroes – the people in our business.
The collective effort needs to be on Reimagining HR. Setting a great example and leading from the front to trigger and encourage everyone to be involved in Reimagining Work – the ultimate task.
Reimagine HR Phases Explained
How should we Reimagine HR? There are numerous models from your consultant of choice and hundreds of articles on your search engine of choice – no shortage of ideas and inspirations, but every situation is unique with a different jumping off point.
For me, there are three (yes you guessed it!) opportunities.
1. Reimagine the operating model
The business partner role is dead. That's hard for me to admit as a generalist and a business partner, but the role isn't sophisticated enough to impact the dynamic complex world we live in. I'd kill the CoE structure at the same time. The new world of HR will be managed around an ever-evolving set of insight driven projects, products and services that need account management, product management and operations management. If you don't have a business partner model already, it's likely a necessary step to go through to get to this new promised land, but I suspect Ulrich has impacted your thinking along the way so your operating model is ready for a refresh.
2. Reimagine the people strategy
In the heart of the pandemic, I introduced the idea of Kondo-ing HR. Taking everything out of the metaphorical cupboard (yes, including those old performance management processes and archaic leadership competency models hiding in the dusty corners) and only keeping the stuff that gives you joy. By joy we mean adds value to the business – a business that needs to change significantly to respond to that trifecta that we talked about. That being said, you might find yourself in a position where you need to reimagine the whole people strategy. Don't be daunted by this. Of course it will take time, but being diligent in the steps you take will pay off.
3. Reimagine your relationship with the business
The table metaphor has been overdone. HR was being 'invited to the table', and that evolved to 'having a place at the table', and then HR was busy 'setting the table'. At a future foHRward event in 2018, one participant suggested we blow up the table and start again – that was 2018 so what should we be doing with the darn table now! As HR leaders we sit round the (virtual) table as equals ready to challenge, provoke, disrupt and support the strategy of the business using the unique contribution we bring. This will require us to partner with all parts of the business and be the integrators of the whole system.
Now is the time to Reimagine HR
At this critical phase in Managing COVID-19 as a CHRO, you have more insight about your HR team than ever before. Avoid too much navel gazing and the victim mindset. Now is the time to get on the front foot and use your new insight to role model the broader change that is required to create the emerging paradigm organizations need. Now is the time to Reimagine HR.
***
This article is a part of a series 4 Phases of CHRO Work During COVID19 Crisis.