In my experience, war analogies have always been a somewhat tiresome element of the corporate vernacular.
We talk about "enemies", "battlegrounds", "war rooms" and "chains of command".
I often found that this language, albeit misused, was designed by leaders to create a false sense of power, control, authoritarianism and machoism. Fortunately for us, unlike our brave troops, we were never in a live combat situation (despite what our egos often told us), but that didn't seem to stop people from pretending we were.
The language never resonated with me as an Executive and it's been refreshing to have the freedom to embrace new concepts or, what John Mackey refers to in his book Conscious Leadership, "new maps and metaphors".
"Instead of thinking about business as a business or a battlefield or a jungle, what if we think of it as a community? The recognition that every enterprise is composed of a variety of stakeholders who are all voluntarily exchanging with the business for mutual gain and benefit is one of the foundational tenets of conscious capitalism." – John Mackey, Conscious Leadership
Sound a bit "new age-y" for you? Well I'm okay with that and I'd suggest you should be to.
Distinguishing behaviours of conscious leadership
As Founder and CEO of Whole Foods, in his book Mackey identified nine distinguishing behaviours and characteristics of conscious leadership. It was the "lead with love" chapter that particularly caught my attention, having talked about this topic with Yvonne Ruke Akpoveta back in May 2020 as part of the Change Leadership Conversations Series.
In the conversation with Yvonne, we "geeked out" about human leadership. This is particularly important as our world becomes more divided and continues to take us on what feels like a runaway rollercoaster ride.
Human leadership is one of those "easy say, hard do" things like most leadership concepts. It's about taking a people centric approach to leadership.
Bob Chapman, CEO and author of Everybody Matters "… imagines a world where everyone matters … A world full of caring work environments in which people can realize their gifts, apply and develop their talents, and feel a genuine sense of fulfillment for their contributions".
Sounds great doesn't it. Doesn't that describe a pretty fundamental need we all have?
Well as I said it's easy to say, but based on a few heart wrenching statistics, it's apparently hard to do.
Gallup's research in 2018 identified that 23% of employees report feeling burned out at work very often or always, with an additional 44% feeling burned out sometimes.
It's not simply about the number of hours worked, in fact employees with more flexibility tend to work more hours and report higher wellbeing. How people experience their workload and how they are managed has a much stronger influence on burnout than simply the number of hours they put in.
It's worth noting that this stark data was pre-pandemic and we know our collective mental health has declined during the pandemic. In fact The Mental Health Index report from Morneau Shepell reported an escalating level of stress with 26% of the population experiencing more stress between November 2020 and December 2020, making the current impact of burnout in the workplace much worse than what was reported back in 2018.
Another important indicator of the state of leadership is trust. According to the Edelman 2021 Trust Barometer, while trust in our employers (within the countries that make up their Global 27) has increased by 2pts since 2020 (+3 in Canada), trust in CEOs has declined by 3pts (alongside a fall for all societal leaders) as we search for the truth. The expectations for CEOs are increasing however with 86% of respondents expecting CEOs to publicly speak out about the societal challenges we're facing – or in other words an expectation that they consistently demonstrate human leadership qualities.
Human leadership
Human leadership comprises a number of critical aspects. In the whitepaper that we co-authored as future foHRward with Microsoft, we referenced courage, high emotional intelligence and empathy. We didn't call it out specifically but leading with love is definitely implied.
By its very definition, love is an evocative word. For any of you who have been lucky enough to be in love, you'll know that it's an emotional not rational feeling. It has many facets that can, perhaps understandably, have people shying away from it in a work context.
Mackey offers perspective from the Greeks who had many definitions of love including philia meaning friendship, eros meaning romantic and sexual love and agape referring to selfless love. In a leadership context, he goes on to explain that love can be demonstrated by showing generosity, gratitude, appreciation, care, compassion and forgiveness.
These virtues of leadership create a sense of deep connection, commitment and performance. The late Herb Kelleher, co-founder, CEO and Chairman of Southwest Airlines, once said "A company is stronger if bound by love rather than by fear" so let's not forget the risk of the alternative.
Lessons from Lasso
For those of you who have been looking for solstice in TV shows, Ted Lasso was one of my favourite lockdown shows and a great demonstration of leading with love. For those of you who haven't seen it, it's a comedy co-created by Jason Sudeikis who also stars in the title role. Lasso is an American college football (what I call American football) coach hired to manage a football (what you might call soccer!) team in the English Premier League – which just happens to be the most competitive football (or soccer!) league in the world.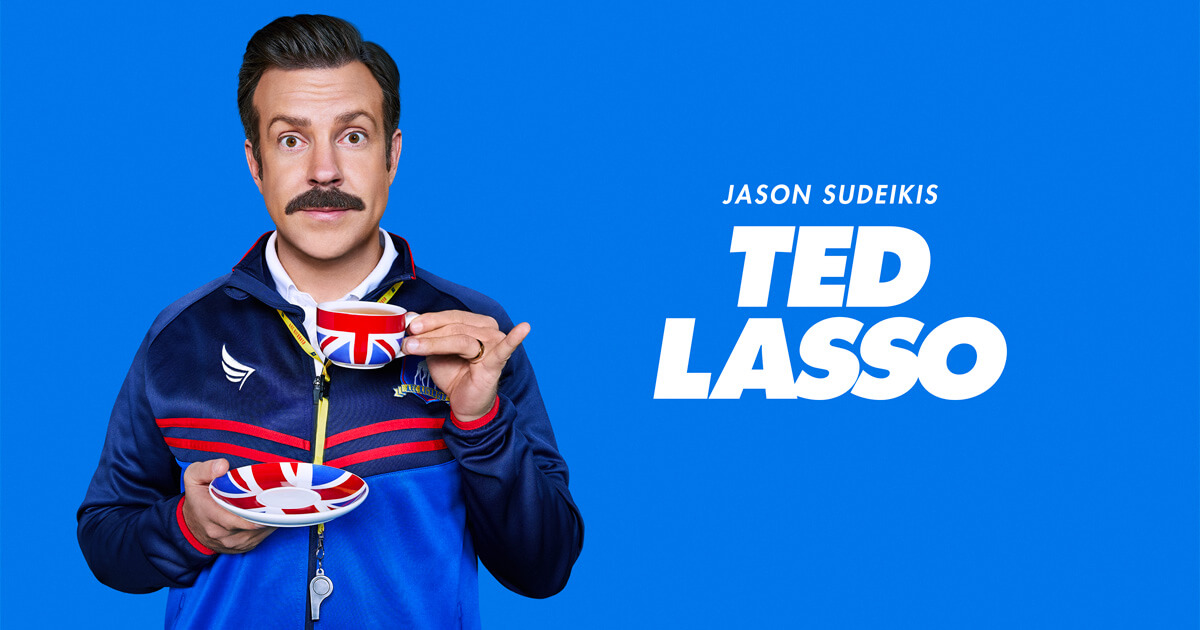 There is a MBA's-worth of leadership lessons in the series as outlined in this article. This particular quote reflects the attention to love Lasso has when it comes to his own leadership style.
"If you care about someone and you've got a little love in your heart, there ain't nothing you can't get through together." – Ted Lasso
Experiencing love
As a leader I have also believed in these qualities and done my best to authentically display them although I'm willing to admit, not always successfully.
When it comes to teams, love is about common purpose and connection. My experience as part of The LeaderSharp Collective is my best example of the power of mutual love for each other. As a group of ten individuals, many of whom I've never met in person, we have built a strong family like bond that provides meaning, support and, like all good families when needed, tough love. We're comfortable disagreeing and comfortable sharing how we care for the people we work with.
So, when you get it right it's a powerful feeling and something to cherish, but it still doesn't make it any easier to do.
Be a Servant Leader
As we think about how we can evolve our leadership style to start to "lead with love", the concept of servant leadership offers the simplest translation of the virtues we have described. The concept originates from the 1970s essay by Robert Greenleaf who asked defined questions about effective leadership.
A way of being more than a technique, the servant leader is defined by Greenleaf as:
"… servant first. It begins with the natural feeling that one wants to serve, to serve first. Then conscious choice brings one to aspire to lead. That person is sharply different from one who is leader first, perhaps because of the need to assuage an unusual power drive or to acquire material possessions…The leader-first and the servant-first are two extreme types. Between them there are shadings and blends that are part of the infinite variety of human nature." – Robert Greenleaf, Center for Servant Leadership
It's a popular perspective. In his book The Motive, Lencioni shares a fable that presents a similar distinction between those leaders who are reward-centred and those servant leaders who are what he refers to as responsibility-centred.
There are 10 characteristics of a servant leader including listening, healing and building community.
Taking the time to reflect on whether you are consistently demonstrating these characteristics and considering how you can show up more with more heart and compassion will get you on the path to leading with love.
Love in war
So as you consider your own leadership virtues, let me leave you with research from Joe Ricciardi who identified, when working on his doctoral studies with the Centre for Values-Driven Leadership, that a team member who feels "'loved' by his or her boss is significantly more likely to see their boss as a good leader. He defined love as "intimacy, passion and commitment" and the most important of all of these was intimacy.
Intimacy is about taking an authentic and sincere interest in people and could be as simple as remembering a spouse's or child's name.
The interesting thing to note is that it's actually Lieutenant Colonel Joe Ricciardi and he led a battalion of 1,000 soldiers who were clearing IEDs in Afghanistan by declaring love as one of his key leadership attributes making this a rare example of love in war.